An ISO 9001 : 2008
Certified Company
AUTOMObile

COMPONENTS

We are engaged in the manufacture and supply of Brass Automobile Parts in the marketplace. The Brass Auto Parts made available by us are fabricated from high quality brass metal. These brass automobile parts are used in all kinds of vehicles and automobiles as replacement parts. They are resistant to corrosion and wear and tear for a longer period of time. In addition to this, we are counted as one of the prime Brass Automotive Parts Manufacturers based in India.

ELECTRONIC

COMPONENTS

We have rich industrial experience for develop & supply high quality Brass Electronics Components, offering our clients wide range of Brass Electronics Components, We specialize in the manufacture & export of Brass Electronic Components, Brass Terminal Strips, Brass PCB Contacts, Brass Electronic Connectors, Brass Panel Board Accessories, Brass Electronic Pins, Brass Lugs & Sockets, Brass Terminal Contacts, Brass Control Panels Accessories, Brass Switchgear Components, Brass Telecommunication Parts



brass

fasteners

We manufacture high quality anti corrugate Fasteners which are basically screws with different heads. Fasteners come in different sizes and we use high quality brass enhance their precision that suit metallic or wooden surfaces to which they are supposed to mount on. They are bolts, nut, hex nuts, large screws and washers.

BRASS

hose fittings

Brass Hose Fittings, Brass Hose Nipples, Brass Hose Barbs, Brass Nipple Fittings, Hose Barb Elbow Forged, Elbow Hose Barb to MPT, Hose Barb Spicer, Female Hose Barb, BSP and BSPT Threads of Brass Hose Fittings, Male Hose Nipples, Female Hose Nipples and Fittings can be developed and supplied exactly as per customer's specifications

brass

moulding inserts

Brass Knurling Inserts, Small Knurling Inserts, Knurling Moulding Inserts, Knurling Small Threaded Inserts, Straight Knurled Inserts, Square Molding Inserts, Nickle Plated and Tin Plated Finish of Brass Knurling Inserts, Brass Inserts and Begins from M2 or equivalent threads and up to any size as per custom design and as per availability


Quality Control
Shruti Enterprise insists upon unmatched quality and excellent customer services and most competitive prices a tradition of the group and strategy for the future.
To achieve the maximum standard and quality, our quality control team continuously monitors the products and user requirement right from the production stage up to the final dispatch. Due to strict quality control procedures our customers are ensured that their requirements are met accurately and consistency.
We are always at services of our valued customers to their satisfaction at most economical and lowest possible rates.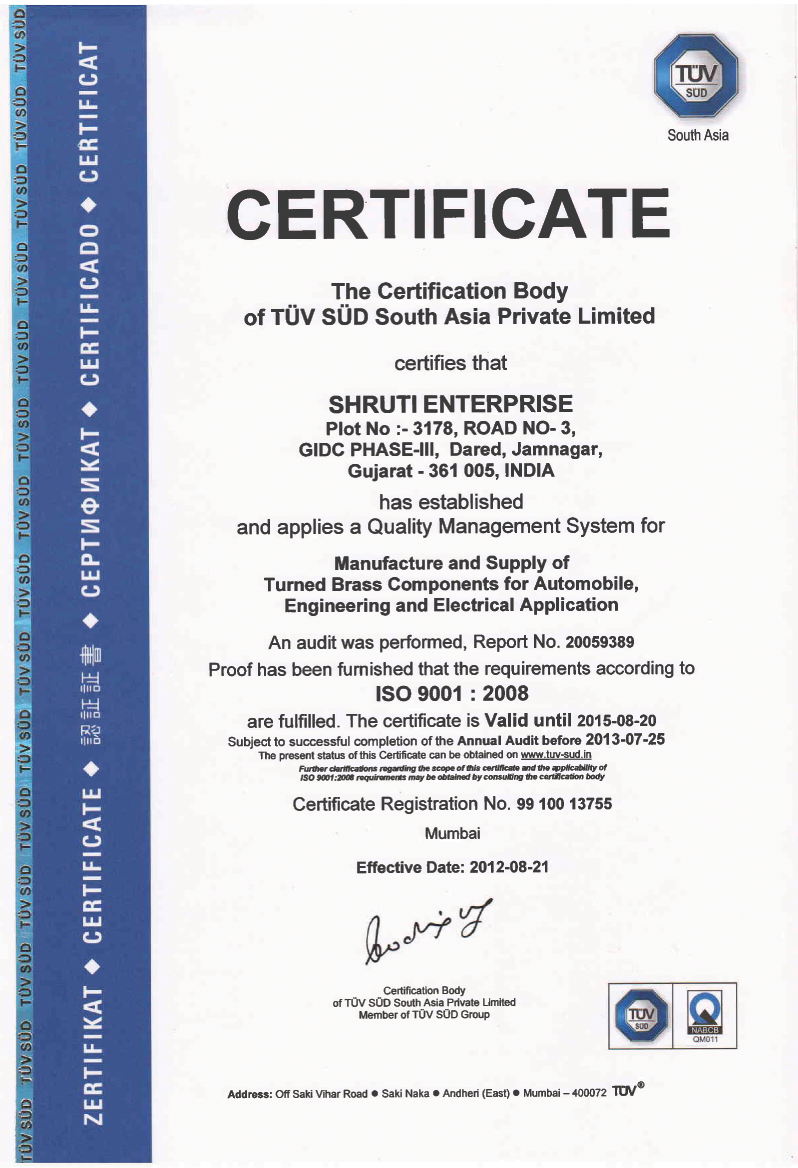 Machines :
Company has Conventional and semi conventional machinery to produce good Quality of Products. 

Inspection :
Company has unique Inspection facility to achieve goal to zero defects and rejection of any products manufactured well experienced and regularly trained, technocrat engineers, carry out the Inspection on each Individual product. 

Instruments :
As the Instruments are the heartbeats of Quality products, to assure good quality and competent Instruments are required. Company has invested good amount behind this to have majority type of Inspection instruments including all general purpose in instruments and gauges along with the profile projector and other sensitive instruments. 

Calibrating :
Each and every Instrument and Gauges are periodically calibrated, to ensure integrity of measurement preventive. 

Maintenance :
Company had documented procedure to conduct the preventive maintenance of each and every machinery and instruments. 

Training :
It is the all time practice of the company to train the entire staff at regular interval to keep updated the strength of the company to produce the excellent quality of the products, that meets with the highest level of the customer satisfaction as all the time. 
Contact US
SHRUTI ENTERPRISE
Plot No. 3178, Road No. 3,
G.I.D.C. PHASE - III, DARED,
JAMNAGAR 361 004(Guj), India.
Tel. +91 - 288 - 2730 731
M.: +91 94264 58604
E-mail: info@shrutienterprise.in
View Shruti Enterprise
in a larger map